CHILE
South America
Capital: Santiago de Chile
Language(s): Spanish
Religion(s): Christianity
(predominantly Roman Catholic)

USEFUL LINKS
Flag of Chile
The following information is generalized and compiled from questions posed to the agents and interviewers in Chile. Although au pairs from this country may or may not have had these experiences/beliefs, Au Pair in America wishes to share this general information with our families.
Child Care Skills
It is common for Chileans to take care of their siblings, cousins and family friends. Older children in the family often help to take care of younger family members.
Preparing healthy meals for children is very common (often preferred to eating out or eating frozen or processed food).
Chilean families are closely united and extended. They believe in the value of family unity. Daily routines may suddenly change and so everyone is always prepared to be very flexible and to adjust to new demands.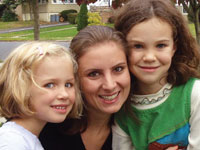 Family
Two to three children per family is common in Chile.
Parents are usually overprotective of their children and depending on family constitution, it is common that mothers are usually the ones who set the house rules.
Chile is a very family-oriented country. For most parents, 'quality time' focuses on spending time together doing different activities indoors and/or outdoors with close family, other friends or family members.
English Skills
English is taught in all schools at different levels and is compulsory. English classes focus on reading and writing.
English movies and TV series are not dubbed in Chile (subtitles are used instead). Chileans are exposed to English every day when watching TV, going to the cinema or using the Internet. Most people also have access to cable or satellite TV channels.
The opportunity to improve their language skills during the Au Pair in America program is one of the main reasons Chilean applicants join the program, especially those pursuing a career in foreign languages.
Driving Skills
The minimum driving age in Chile is 18. Most applicants do not obtain their driving license at this age since having a car or driving from place to place is not needed or common at this age. Most people use public transportation.
The process of obtaining a standard driving license takes at least 2 months and candidates have to complete a 1 month driving course before they are allowed to take the theoretical and practical exams. Licenses have to be renewed every 6 years.
Depending on where you live in Chile, drivers may experience a variety of weather conditions, including rain, sand, dirt roads, snow and ice.
Education
Education in Chile is free and compulsory until the age of 18 by law. However, there are three types of schools (state supported 100% free, private subsidized schools and fully private).
The literacy rate in Chile is between 98% and 99%.
Parents believe that education is the best tool to succeed in life and usually strive to provide the best possible alternatives to their children including higher education, which is very expensive.
Health
There are two healthcare systems in Chile: private and state supported.
Healthcare is very expensive in Chile for major problems. However, state subsidized healthcare clinics are available in most places and a special program to cover costs of all major catastrophic health problems is available nationwide to all citizens.
Regular medical check-ups are provided by schools or in state-supported clinics at no cost.
COMMON CHARACTERISTICS:
Chileans are extremely hospitable, relaxed and warm. They are always interested in learning from others and very proud of their country and its natural beauties.
Chileans have strong family ties. All over the nation there is a feeling of spontaneous solidarity to help those in need or affected by any natural disaster.
Personal care, honesty, and affection are also very important.
FUN FACTS:
Chile is the longest country in the world from north to south at 2,647 miles (4,620 km) long, and it extends across 38 degrees of latitude. The Andes Mountain Range extends the entire length of the country north to south.
Chilean Patagonia is one of the cleanest places on the planet
Chile has the world's largest reserves of copper – around one quarter of the global supply, and is the number one exporter of copper in the world. Chile also has the second largest reserve of lithium and has substantial reserves of iron, silver, salt, zinc, manganese, molybdenum, gold, coal, and iodine.
USEFUL PHRASES:
How are you?        ¿Cómo está?
Fine, thanks.        Bien, gracias.
My name is…        Mi nombre es…
Nice to meet you!        Encantado de conocerlo/a
Thank you.       Gracias
"It will make you more independent, more confident and you will learn so much! A very good experience!"

– Vanessa, au pair from Chile
"It is a great experience before you begin to work. You will improve your language skills and become independent and open minded."

– Maria, au pair from Chile
"You should take advantage to this great opportunity. The whole experience helps you to know more about yourself in ways you can't even imagine."

– Yasna, au pair from Chile
"In the U.S. I did not work for an employer, I was part of a family that would be my family for the rest of my life."
Naomi, au pair
South Africa