BRAZIL
South America
Capital: Brasilia
Language(s): Portuguese
Predominant Religion(s): Christianity

USEFUL LINKS
Flag of Brazil
The following information is generalized and compiled from questions posed to the agents and interviewers in Brazil. Although au pairs from this country may or may not have had these experiences/beliefs, Au Pair in America wishes to share this general information with our families.
Child Care Skills
Brazilians have big families so they start taking care of younger family members from a young age.
Brazilians are very warm people and when taking care of children, they make sure to show children how loved they are.
Brazilians are quite creative and they use this to their advantage when working with children.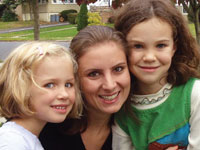 Family
It is common for young Brazilians to live with their parents until they get married.
Families are usually quite big. It is common for families to get together for a weekly lunch.
Brazilians put a lot of emphasis on respecting older members of the family.
English Skills
Brazilians start learning English in fifth grade.
On average, they start getting serious about learning English at the age of 16.
Brazilian applicants have their level of English assessed through a personal interview and taking the iTEP (International Test of English Proficiency).
Driving Skills
Brazilians usually start driving at the age of 18.
Brazilians are used to driving in busy city traffic.
A lot of people need to drive on highways every day to go to work or to college/university.
Education
Compulsory education lasts for 12 years.
It's very common for Brazilians to have some kind of art education.
A high proportion of Brazilians go on to study at a university.
Health
The public health services in Brazil are universal and available to all citizens of the country for free.
Millions of affluent Brazilians also have private health care coverage.
Hay fever is quite common in Brazil.
COMMON CHARACTERISTICS:
Brazilians are known to be very welcoming and hospitable.
Generally, Brazilians like to be close to other people. It is common for them to touch and hug other people when talking to them or being around them.
Brazilians are very caring. They are generally quite laid back, but they can be strict when needed.
FUN FACTS:
When Brazilians turn 15, they usually have a big party or a big trip – it's an important age for Brazilians.
Brazilians have countless religions. They are very relaxed about mixing religions.
Brazil has the most successful national soccer team. So far, they have won five FIFA World Cups.
USEFUL PHRASES:
How are you?       Tudo bem?
Fine, thanks.       Bem, obrigada.
My name is…       Meu nome é…
Nice to meet you.       Prazer em conhecê-lo.
Thank you.       Obrigada.
"Go for it. Be positive and open. It has been one of the most important experiences in my life."

– Jade, au pair from Brazil
"This is a great experience that will help you grow personally and professionally. Seriously, you will never regret of your decision!"

– Natalia, au pair from Brazil
"I totally recommend this experience! Besides it being the best year of my life, when I came back to my home country, I had many opportunities that I wouldn't have had if it wasn't for this year as an Au Pair."

– Ludmila, au pair from Brazil
"You can not beat the flexibility of the Au Pair program. My au pairs have been so great that my friends want to steal them and take them home!"
Catherine , host parent
Connecticut