COSTA RICA
Central America
Capital: San José
Languages: Spanish
Predominant Religion(s): Christianity
(Roman Catholic)
The following information is generalized and compiled from questions posed to the agents and interviewers in Costa Rica. Although au pairs from this country may or may not have had these experiences/beliefs, Au Pair in America wishes to share this general information with our families.
Child Care Skills
Costa Ricans usually gain their childcare experiences by taking care of their friends' children, neighbors' children and their close relatives, including younger siblings, cousins, nieces and nephews.
Costa Ricans care a lot about discipline and teach children to have good manners and to respect adults.
Costa Ricans are caring and like to show children lots of affection. They tend to be patient with children and like to teach them how to do things.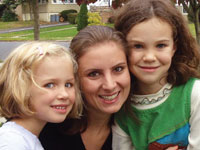 Family
Relatives love to get together on weekends to attend church, have lunch or go on holiday to the beach or mountains.
Costa Ricans care a lot about traditions and customs. It's common to live with parents until marriage, and relatives usually live in the same neighbourhood as one another.
Nowadays, the average amount of children is 2, but Costa Ricans families used to be very big…around 7 members per family!
English Skills
Children start English lessons in kindergarten and continue their English lessons when they move on to public or private schools.
In order to apply for a good job in Costa Rica, all graduates need to have a high level of English, so English courses are readily available throughout the country.
Costa Ricans are influenced by U.S. culture, movies, TV shows and songs, and they enjoy singing or speaking in English with friends.
Driving Skills
It takes around 6 months to pass the written and practical driving tests in Costa Rica.
Costa Ricans have lots of options to take professional driving lessons at a driving school. Most of the cars are manual, but you can also learn to drive automatic cars.
Traffic is very heavy in Costa Rica, so driving in heavily populated areas is usually not a problem for au pairs from Costa Rica.
Education
Education is free from kindergarten through to high school, so everyone has access to a good education. Costa Ricans can also apply to private universities with affordable prices.
Education is very important, and the best gift a parent can give their children in Costa Rica is a good education.
The education system in Costa Rica is rated as "high quality," and the literacy rate it about 95%.
Health
Costa Rica provides universal healthcare to its citizens and permanent residents and offers some of the best healthcare in Latin America.
Costa Rica has a high life expectancy due to its healthy, non preserved foods and tropical climate.
For small medical issues, Costa Ricans will first visit the local pharmacy for a consultation. It's relatively cheap to visit the dentist or have urgent surgery.
COMMON CHARACTERISTICS:
Costa Ricans are seen as very happy, and that's why Costa Rica is considered the happiest country in the world!
Costa Ricans are very friendly, helpful and warm.
"Pura Vida" is the best phrase that describes Costa Ricans – it means be positive and enjoy life to the fullest!
FUN FACTS:
Costa Rica is a quite small country. The population is only 4.5 million, and you can travel from one side to the other in 14 hours.
Costa Rica has no army as it was abolished in 1949 – they love peace!
Costa Rica hosts more than 5% of the world's biodiversity, even though its land mass only takes up .03% of the planet's surface.
USEFUL PHRASES:
How are you?            Como estas?
Fine, thanks.:              Bien, gracias.
My name is…:            Mi nombre es…
Nice to meet you.:       Gusto en conocerlo.
Thank you.:            Gracias.
"The Au Pair in America program is a really good opportunity to grow as a person, be independent and learn about a new language and culture."

– Silvia – au pair from Costa Rica
"It's a great opportunity that might change your life forever. Not a easy choice, because you have to leave your family and friends for a year, but in the end it is worth it."

– Vivianna – au pair from Costa Rica
"Take the risk, leave all fears behind and get ready for an adventure that will change your life on so many different levels."

– Adriana – au pair from Costa Rica
"By inviting a person from another country to join our family, live with us, and learn about our culture, we actually learn so much about ourselves, how our own culture and way of life appear through the lens of someone new."
Belle, host parent
Massachusetts