COLOMBIA
South America
Capital: Bogota
Language(s): Spanish
Predominant Religion(s): Christianity

USEFUL LINKS
Flag of Colombia
The following information is generalized and compiled from questions posed to the agents and interviewers in Colombia. Although au pairs from this country may or may not have had these experiences/beliefs, Au Pair in America wishes to share this general information with our families.
Child Care Skills
It is common for Colombians to have experience looking after younger family members.
When looking after children, Colombians are protective, careful and dedicated to helping with homework.
Colombians often enjoy doing activities like baking, sports, reading bedtime stories and playing with children.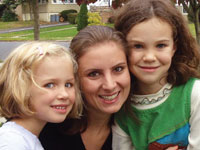 Family
Most Colombians are close to their families and they enjoy eating together.
Colombians are used to helping with household chores.
Colombians are social and their families put an emphasis on being raised with good manners and values.
English Skills
Colombian applicants show a great interest in improving their English skills
Many of them take private lessons before applying for the program.
Some applicants also take online courses to improve their English skills prior to departure.
Driving Skills
The minimum driving age is 16.
Colombians have to take theoretical and practical driving lessons as well as a physical, mental and motor skill exam in order to be issued their driving license.
It is notoriously hard to drive in Bogota, so Colombians feel that if they can drive there, they can adjust to driving anywhere!
Education
Most Colombian applicants are university undergraduate students. Those who are already professionals hold degrees from recognized Colombian universities.
Elementary education starts at the age of 5 and lasts for 5 years (grades 1 to 5). Secondary education is divided into basic secondary education (grades 6 to 9) and mid secondary education (grades 9 to 11).
English is a compulsory subject from 6th grade to 11th
Health
There are different kinds of health services in Colombia. SISBEN (System for the Selection of Beneficiaries of Social Programs) focuses on people from lower socio-economic levels and in many cases their services are free. EPS (health promoting entities) sell health service packages to the public. There are also "pre-paid health services" that offer the highest level of medical attention and priority service to patients at much higher costs.
The most common health issues are hayfever caused by weather change or dust allergies.
Colombians generally like to eat healthily. They have a low fat diet and eat a lot of fruit and vegetables.
COMMON CHARACTERISTICS:
Colombians are very warm people and are willing to open their homes and share their lives with people from around the world.
Colombians tend to be quite extroverted and sociable, as well as playful and cheerful.
Colombians like to look after other people.
FUN FACTS:
Colombia is the home country of many famous people such as Shakira (singer), Carlos Vives (singer/actor), John Leguizamo (actor), Sofia Vergara (actress), and the famous writer Gabriel Garcia Marquez.
The Andean condor is the national symbol of Colombia.
Colombia has quite a successful soccer team and has been to the FIFA World Cup five times so far.
USEFUL PHRASES:
How are you?       Como estas?
Fine, thanks.       Bien gracias.
My name is…       Mi nombre es…
Nice to meet you.       Placer en conocerte.
Thank you.       Gracias.
"This experience is the best decision I have ever made. Your life completely changes. You become a different person, in a good way, and you make friends from all over the world including your own host family."

– Tatiana, au pair from Colombia
"This is the best experience that anyone could ever have."

– Maria Jose, au pair from Colombia
"Don't hesitate! Being an au pair has been one the best experiences of my life so far. I learned a lot of things about myself and now I see the world with different eyes."

– Ana Maria, au pair from Colombia
"I like the opportunity to see American life as an insider, to come to know the traditions and customs, approach to bringing up children, managing the household, learning peculiarities of everyday language, American cuisine, and just the chance to hear from the children I love you."
Ekaterina, au pair
Russia