The Au Pair program option is the most popular choice for most host families, providing flexible, affordable, and intercultural live-in care for infants, toddlers and school-aged children. Au pairs can provide up to 45 hours of child care assistance per week.
Here is a profile of a recent au pair: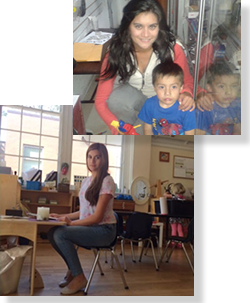 Tatiana from Ecuador
Non-Infant Qualified
23 years old
2,840 hours of child care experience
I am Tatiana and I have recently graduated with a degree in Clinical Psychology at the University where I was able to grow into myself as a professional and human being as well.
I am very grateful toward my parents who have given me the best such as manners, education and taught me and my 4 siblings to struggle our objectives forward.
The most successful experience I have done is attended at a school where I take care of some children who have several issues and need therapy. For instance I have had children who have autism and I have applied some techniques such as involving them in the environment around where they are capable of participating in some events which try to act out and integrate each other in a whole group. These children are 4 years old who are sincerity lovely and I have learned from those kind of challenges. That's why I have learned to be more mature and take advantage of every challenge to be better and give the best every single day.
This is why I am highly motivated to participate in the au pair program. I would also like to expand my knowledge about English in the United States. This program will give me a chance to fulfill my dreams and assist children who need care for growing into themselves and keep giving all my best to the development of the community.
I am excited to hear from you!
---